Alumni Contact Program, IIT Kanpur asked me to write this post which was featured on their facebook page on May 27, 2015.
#Kanpur16 #3

Newest Alumni/Alumnae Of IIT Kanpur

Srijan R Shetty (IITK/B.Tech./CSE/2015)

IITK, a microcosm, a melody made of the discordant notes that the fleeting faces of the institute are. And in this cacophony, I found the greatest of treasures - true friendships: seniors, who've pushed me out of my comfort zone, and at the helm of life; juniors, who've always inspired me to be a better person; and a bunch of crazy whacks who've made me realize that life is about the experiences and the people you choose to share them with. Now that I look back, the last four years seem to have lasted a lifetime and if it hadn't been for these pyscho-whacks - fondly, my wing - who've stood by me for no apparent reason, it would have been a very humdrum affair.

Perhaps, the most important thing that this institute has taught me is to keep my mind open and to never stop learning. You meet people from different walks of life, you are faced with different ideologies, ideas traditions and the only way you can appreciate them is with an open mind. Keeping an open mind has also made for some great stories, one in particular relates to getting convinced by a friend to mass bunk a class. Amusingly, in the next class of the same course, the professor maintained a calm demeanour and wasn't furious at all. We were in for a surprise though, as he soon announced - 'We completed four chapters in the previous class and the quiz copies for the quiz conducted in the last class has been checked, students are requested to collect the answer sheets from my office; and the quiz amounts to 25% the course weight.' The dumbstruck faces all over the class were priceless.

One last piece of advice, abhor the concept POR (Position Of Responsibility). At the end, you either learn something out of it or there are already enough people with the same POR for it to be of any consequence.

We wish All The Best to Srijan for his future endeavours !!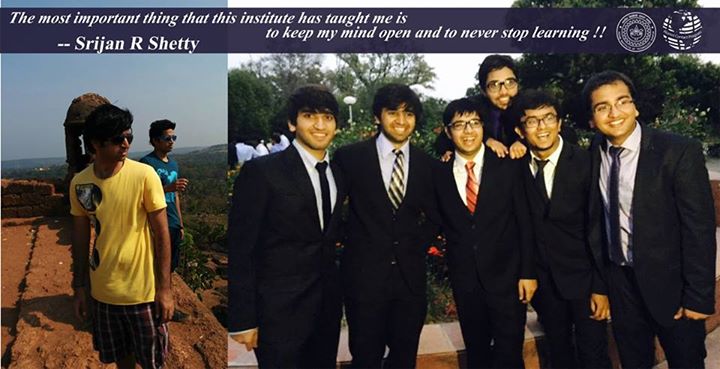 ---